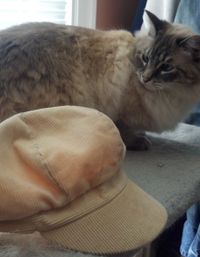 I'm getting rid of this hat today. Here's a summary of my internal dialogue preceding this decision:
I never wear that hat.
Maybe I should get rid of it.
First, let's try it on, see what it looks like.
Oh… that's kind of a cute.
Maybe I should keep it.
But I never wear it.
I know... that's a terrible color on me.
But it's a cute hat.
Just keep it, it'll look fine with a little red lipstick.
In summary, this is a cute hat, but the color is all wrong for me. In order to avoid looking like I have jaundice, I need to wear lipstick every time it goes my head, which is why I never wear it. Adios, hat.