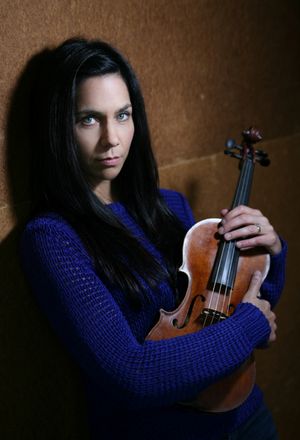 violin lessons
My Background & Philosophy 
Musical Background 
I've been playing the violin for over 40 years. 
My formal background and training is in classical music. 
In recent years, I've been exploring other musical styles using an electric violin. 
I've performed in hundreds of shows over the years, including symphony orchestra concerts, as part of string quartets, with Natalie Cole, Vicci Martinez from TV's "The Voice," Pomplamoose, Imogen Heap, and at a Seahawks game for 60,000 people with rock band Alice in Chains.
Teaching Philosophy 
Music is one of the most joyful, rewarding, and creative things in the world. 
The best environment for learning is one that's fun, relaxed, and adapted to each student's learning style. 
You're never too old to learn. As long as you're moved by music and you have a desire to learn, you'll make progress (really!). 
I choose music that matches my students' interests. This means one may prefer classical, while another gravitates toward fiddle tunes. 
No matter what type of music we work on, I teach students how to produce a good tone, have solid technique, how to play in tune, and how to read music. 
I work with students to learn the story behind each piece. That way they not only play notes on a page, but they learn to express themselves creatively.
Tuition & Policies 
Tuition  
Cost per lesson: Lessons are $60 for 45 minutes.   
Monthly tuition: Tuition is due on a monthly basis. At the first lesson of each month, we'll compare calendars to determine the number of lessons you'd like to schedule for the coming month, and you'll prepay for those specific dates. Tuition may vary from one month to the next, based on the actual number of lessons that occur.  
Payment forms accepted: Cash, check, or credit card.  
Late charge: A $5 late charge will apply for each week that tuition is late.  
Attendance and Make-up Lessons  
24-hour cancellation policy: If you provide at least a 24-hour advance notice, your lesson can be rescheduled (your payment will be transferred to another date). If you provide a shorter notice, tuition for that lesson will be forfeited.  
No-shows: Are considered a full lesson and no make-ups, refunds, or future credits will be available.  
Arriving at the Studio  
Please plan to arrive at least 5 minutes prior to your lesson; this allows time to unpack the violin and tune before your lesson starting time.
Need More Information?
Find a Seattle-based violin shop >