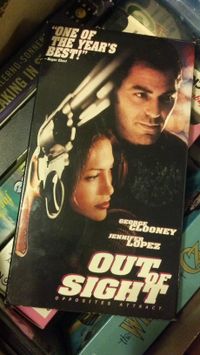 Today I went through a desk in search of one item to part with, but without much effort, ended up with two full grocery bags. Value Village will soon be receiving a head scratcher, two old pairs of sunglasses, six keychain flashlights that I picked up at a health fair sometime around 1997, and more than 40 VHS tapes.
One of the VHS tapes was the movie "Out of Sight." This phrase made me realize something very important: I have certain things in my house simply because there's physical space to put them. And as long as those items can be out of sight, I operate as if there's no reason to get rid of them. 
This "out of sight" approach used to work for me, but lately, it's been providing some tension. Stuffed desk drawers with hidden, but useless items, are bogging me down. I've been feeling this for a while, so I'm inspired to explore the relationship I have with my stuff in the coming month!