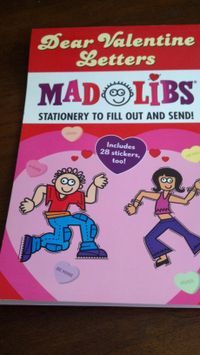 "When you are in love, you greet each day with a
banana peel
in your heart and a
tennis shoe
on your face."
"I like you as much as I like
 lawn mowers
."
"When I first saw you, my
knee cap
went tingly all over."
You've gotta love Mad Libs. They were created to teach kids nouns, adverbs, exclamations, etc. They inspire creativity and imagination (at least I always dug deep to choose the most outrageous words possible). Plus, the nonsense created by them has an even more wonderful result: giggling. 
A few years back for Valentine's Day, I filled out Mad Libs and mailed them to friends/family. Today I will donate the uncompleted ones that remain, hoping that someone else will take pleasure in a little silliness.