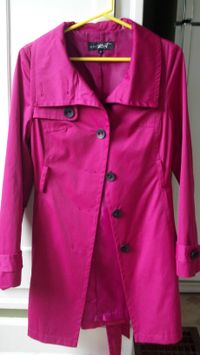 It's Day 8 of my "getting rid of stuff campaign" and I'm feeling resistance. I walked from the living room, to the dining room, to the kitchen, to the office, to the bathroom, and I even looked in two closets. Still, I was having a hard time finding my singular (yes, just one) item to eliminate. Hmmm... I need to ponder this resistance a bit more in a future posting.
In any event, I landed on this pink coat for today. I bought it at a second-hand store with the original tags still attached. I'll be honest: I didn't love this coat. The color isn't my favorite and it has a slit up the back (not the most attractive feature for someone like me with an ample back side). After hemming and hawing, I came to the illogical conclusion that I simply had to have it. 
My lesson from this item is that I sometimes make clothing purchases based on price, even if something doesn't look great on me. In these instances, I'm always ignoring my intuition. Ultimately, this means I don't end up wearing these items or I don't feel good in them when I do. From now on, I'm going to make a more concerted effort to not let price be the key driver for my clothing decisions. I mean, it's better to buy nothing at all then to spend a penny on something I don't love.