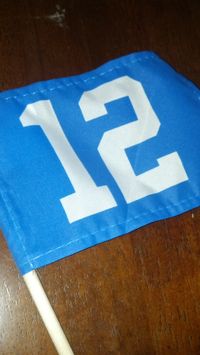 One day while walking during my lunch hour in downtown Seattle, I noticed a small swarm of people ahead. I could see that something free was being handed out. Without much thought, I found myself waiting in line for one of these flags. This makes absolutely no sense, given the fact that I'm not into spectator sports, and especially not football.
This flag has never been used. Deep down, I knew that would be the case... so why did I feel compelled to get one? I believe it was because I was overtaken by the energy of the crowd and the excitement about getting something for free. The buzz on the street made me forget that I, Michelle Crumpler, am not the 12th man.  
I better get rid of this flag, like quick, before a crowd of you football lovers shows up to persuade me otherwise.