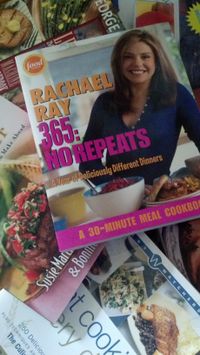 I don't know when my obsession with cookbooks began. I could blame it on an inherited family gene or being a victim to the masterful marketing of the cookbook industry. But I think the real reason is that I like to cook.

Today I removed 14 cookbooks from my collection. Here's why I'm parting with these particular books:

The pages are practically spotless. In contrast, the books I actually use have food splatters and stains on the pages.

There aren't many pictures. I love looking at inspiring and beautiful pictures — it's part of the cookbook experience for me. (I also appreciate the short anecdotal stories authors include with recipes.)

Taste. Despite whatever dietary regimen I may be adopting at the moment (for example, dairy-free, gluten-free, etc.), I no longer will settle for mediocre food. If the cookbook is filled with recipes that meet my dietary needs, they still need to make me want to eat!

I don't regret having purchased these books in the first place — they're part of my evolution. They have been teachers over the years. Initially, they taught me the basics of cooking. But as time progressed, I started to realize that I was able to apply the learned skills and be inspired to cook more intuitively on my own. That seems to be precisely in line with what any great teacher does.